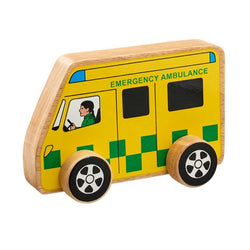 My daughters just love these vehicles on wheels!!  This traditional British ambulance has a colourful double sided design. The vehicle body size is 25mm thick and  you can see much detail on it, including the paramedic driving!
Painted in colours on both side finished with a natural wood edge on the body and wheels.

This vehicle is designed by Lanka Kade and Made in Sri Lanka with Eco-Friendly Wood. 

Made of rubber wood
Dimensions: 86mm (H) x 146mm (W) x 58mm (D)
We recommend a play age of 1-6 years

TOY SAFETY
Age suitability: 10 months +
WARNING! Not suitable for children under 10 months, due to size and shape of pieces

CLEANING INSTRUCTIONS
Wipe clean only with a damp cloth
Wipe away any excess moisture and leave to air dry (avoid direct sunlight)