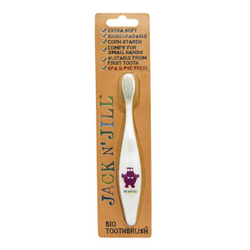 Jack and Jill
Jack N' Jill Hippo Bio Toothbrush
Suitable for baby's first teeth, this bio toothbrush can be used for children of all ages. The brush has soft nylon bristles for the sensitive gums and tiny teeth of all children. The handle is rounded and curved for easy and comfy gripping by tiny hands.
The toothbrush handle is made from 100% corn starch (non GMO) and soft nylon recyclable bristles. The handle typically takes 90 days to break down in a commercial compost.
BPA and PVC free.
Directions for use: Use minimum pressure and brush in a circular motion.
Rinse the brush thoroughly before & after use and allow bristles to air dry. Always use with adult supervision. Carry on helping your child brush their teeth until you're sure they can do it well enough themselves. This will normally be until they're at least seven.
Replace toothbrush every 8 weeks or earlier if worn.
Disposal: Break off the toothbrush head and discard thoughtfully. Check local recycling to see if recycling is possible (nylon is recyclable). Place the rest of the toothbrush into your compost.