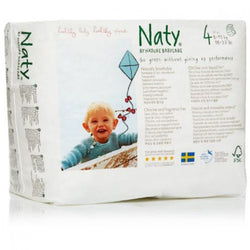 Naty
Nature Baby Nappy Pants - Maxi Size 4 (18-33lbs) 22s
PRODUCT DESCRIPTION
Leave nappies behind with these maxi disposable pull on pants from Nature Babycare.
Naturally breathable these totally chlorine free pants are a step towards your child's independence from nappies making your routine a whole lot simpler while still giving the absorption and protection your child is used to.
With a natural corn based coating these pants give maximum protection with minimum environmental impact. Firm yet comfortable elasticated waist with ample absorption.
•    Maxi/Maxi Plus - Size 4 - 18-33lbs 8-15kg
•    22 disposable pants
•    100% chlorine free 
•    Based on biodegradable materials 
•    Biodegradable back sheet film based on maize 
•    100% GM free
The Naty by Nature Babycare Pull On Disposable Pants - Maxi/Maxi Plus - Size 4 - Pack of 22 product ethics are indicated below. To learn more about these product ethics and to see related products, follow the links below.
Parabens -Free, Biodegradable, Recycled/Recyclable packaging, FSC Certified,  Vegetarian, Vegan