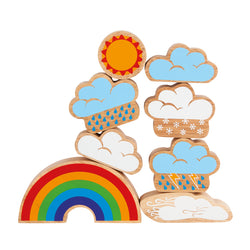 Lanka Kade
NEW IN! Weather playset - 8 pieces
8 beautifully hand painted wooden weather themed pieces. Stack them, play with them and create your own weather stories. This amazing wooden toy is a perfect gift for the cloud and rainbow lover! 
Fair trade, sustainable and ethical. Lanka kade toys are all made individually and each one may be a little unique. 
This weather set:
is printed on both sides with a colourful showing a natural wood grain edge
includes a sun, rainbow, snowing clouds, raining clouds and white fluffy clouds. 
is a super chunky size - each piece is 25mm thick
is made from sustainable rubber wood
is perfect for small world play, story sacks and more
comes boxed. 
TOY SAFETY




Age suitability: 10 months +




WARNING! Not suitable for children under 10 months, due to size and shape of pieces





CLEANING INSTRUCTIONS




Wipe clean only with a damp cloth




Wipe away any excess moisture and leave to air dry (avoid direct sunlight)