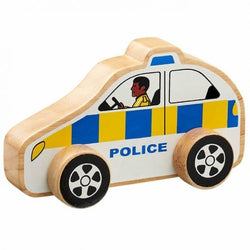 My daughters just love these vehicles on wheels!!  This white,yellow and blue policecar has a double sided design. The vehicle body size is 25mm thick and  you can see much detail on it, including the driver!
Painted in colours on both side finished with a natural wood edge on the body and wheels.

This vehicle is designed by Lanka Kade and Made in Sri Lanka with Eco-Friendly Wood. 

Made of rubber wood
Dimensions: 86mm (H) x 146mm (W) x 58mm (D)
We recommend a play age of 1-6 years

TOY SAFETY
Age suitability: 10 months +
WARNING! Not suitable for children under 10 months, due to size and shape of pieces

CLEANING INSTRUCTIONS
Wipe clean only with a damp cloth
Wipe away any excess moisture and leave to air dry (avoid direct sunlight)