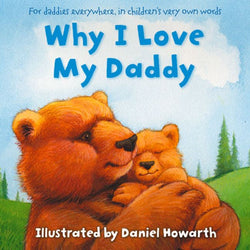 Usborne
WHY I LOVE MY DADDY
'I love my DADDY because… '
Everyone's daddy is the best. And who better to tell the world than children themselves?
This charming book combines endearing things said by children about their fathers with gentle illustrations of familiar animals.
With beautiful pictures and charming words from children, all about daddies, this is the perfect book to share with Dad!
Details

Author: Howarth, Daniel
Publisher: HarperCollins Publishers
Format: Paperback
Publication Date: 05/06/2006
ISBN: 9780007508662
B-Code: B005102
Pages: 32
Dimensions: 216x210mm